Red Carpet's Pest Control Package
Pest control For as low as low as $29.95 per month.
Red Carpet Pest Control Treatments
Zone 1: The Interior
In this zone, we do a thorough initial inspection of the entire home focusing on areas where pests like to harbor (kitchens, bathrooms, and points of entry). We will also inspect the attic and crawl spaces on our initial visit. On the interior, we use preventative measures to prevent pests from entering our customer's homes. This includes bait and/or dust applications under appliances such as refrigerators, dishwashers, and ovens. Gel bait will be used on pipes under the sink in the kitchen and bathrooms to control any pests that make their way inside. We will also use accessible switch plates, outlet covers, cable plates, etc. to get dust applications into the wall void. When possible, we always try to use the least invasive products first and utilize compressed air for inspections and a vacuum to remove any live pests.
Zone 2: Immediate Lower Exterior
In this zone, we are inspecting for cracks in the slab, wood to ground contact, mulch piled up against the foundation of the home, and other conducive conditions. We will treat this area with a liquid residual insecticide using a targeted application.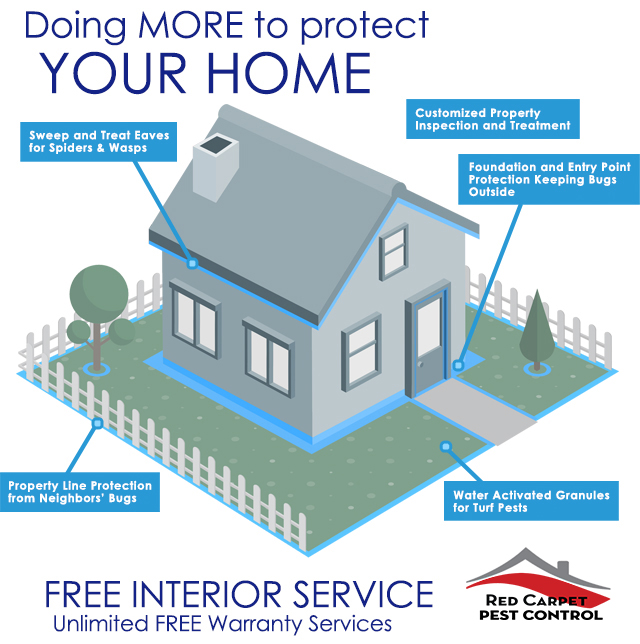 Zone 3: Immediate Upper Exterior
In this zone, we are inspecting for cracks around doors and windows, trees touching the top of the roof and other potential moisture leaks such as gutters and drains. We will continue our targeted insecticide applications per label directions. This area is prone to stinging insects and spiders.  We also treat all wasp nests, mud daubers, and spiders up to 10ft. We will then sweep away all spider webs around the exterior of the home.
Zone 4: Ornamental Zone
In this zone, we are treating the ornamental beds with a granular bait to penetrate the mulch, pine bark, and pine straw areas. This application will get down to where the pests are harboring. Too much thatch and mulch, too much moisture, and overgrown ornamentals can be conducive conditions to pests.
Zone 5: Inspection Zone
In this area, we visually inspect the surrounding areas of our customer's home. We are looking for areas that might cause a pest problem such as wooded and tree lined areas (fleas and ticks), trash piles (flies), containers holding water or drainage ditches (mosquitoes), and other areas that could bring in wildlife or other insect pests.